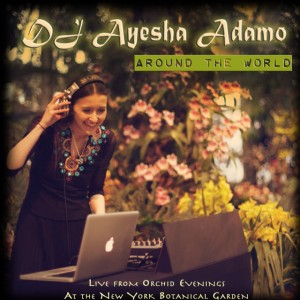 At long last, I've finally posted an hour mix from one of my sets at New York Botanical Garden's Orchid Evenings in April.
Spinning World Music for a change was an amazing challenge, and I think you'll agree that journeying outside my usual EDM box has allowed me to create a mix that's truly unique and special.
This set is from the evening of April 12th, and journeys from lush loungy terrain all the way through to thumping Latin House, spanning continents and decades of international sounds.  The fusion and play between traditional World Music and dance genres dominates throughout, and the live Arabic remix of Tube & Berger's "Imprint of Pleasure" is enough to make DJ aficionados weep with joy.  Heck, I even include a Salsa mix of my namesake song—kind of like spelling my own name out in the notes of a fugue 😉
Play it.  Download it.  Enjoy it.  Vive la différence!  This mix is hot.
Special thanks to Victor Chu for the cover photo.