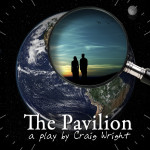 I'm so excited to announce that I will be playing the role of Kari in Craig Wright's brilliant play, The Pavilion.  This project has been about a year in the making, and it all started when one of my actor friends, Jeffrey Delano Davis, called me up and asked if I wanted to do a reading.  Actually it all really began years before that, when I met Jeff on a short film that we were both cast in.  And then we kept running into each other at Equity auditions in the years to come, always saying that we should really try and do a play together at some point.
Well this is that play.  And it's going to be amazing.  In addition to our stellar cast (Jeffrey Delano Davis, Jon Adam Ross, and me), we've got Michael Kostroff (of The Wire, The Blacklist, etc) directing.  To find out more about the production, go to: www.paviliontheplay.com
Going to be in NYC sometime between November 6th and the 22nd (2015) and want to get tickets?  Good call.  Here's the link for that: http://thepavilionplaynyc.bpt.me/
Just want to make a donation to the production because good theatre is awesome? You can do that here: https://www.indiegogo.com/projects/the-pavilion#/
Here's the performance schedule:
November 6-22 at The Producer's Club Theater NYC
358 West 44th Street, NYC
Fri. Nov 6 @ 8 pm (preview)
Mon. Nov 9 @ 8 pm (preview)
Thurs. Nov 12 @ 8 pm
Fri. Nov 13 @ 8 pm
Sat. Nov 14 @ 2 pm & 8 pm
Sun. Nov 15 @ 2 pm
Mon. Nov 16 @ 8pm
Thurs. Nov 19 @ 8 pm
Fri. Nov 20 @ 8 pm
Sat. Nov 21 @ 2pm & 8 pm
Sun. Nov 22 @ 2 pm
Hope you can come and check out this show.  I promise it will be unforgettable (in a good way).