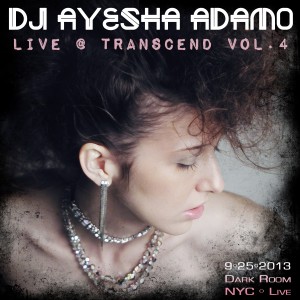 In case you missed it, here's my last mix of 2013: TRANSCEND Volume 4.  It made it all the way up to #23 on the Beatport mixes countdown, which is especially great because it's my personal favorite mix of the series so far.
Recorded live at Dark Room, NYC on September 25th, this volume has some deeper, more techno vibes.  I'm particularly fond of the old Platipus Records sampling over the new Japanese Popstars track, Out of Nowhere, that comes early on in the 90-minute journey.  Brilliant and daring stuff…if I do say so myself!  😉
More to come in 2014.  But for now, check out the mix on Beatport below.  Photo by Rhake Winter.
http://mixes.beatport.com/mix/dj-ayesha-adamo-live-at-transcend-volume-4/124969