bio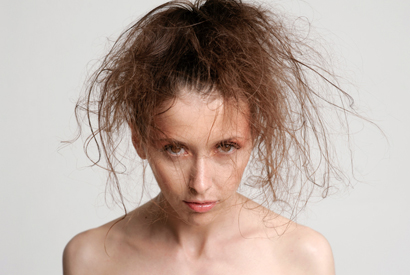 Ayesha Adamo is a DJ, producer, recording artist, and actor, and this is her super-long bio for all you über-fans.  Yes, now would be the time to take that potty break and silence your cell phones.  It's gonna be a while.
Ayesha grew up by the oceans and sands of the pre-Snooki era Jersey Shore in the tiny town of Island Heights. Her love of music first developed during many years of ballet class, which ultimately lead her to New York to pursue a career as a professional ballerina. She stepped off the bus with a suitcase full of pointe shoes and visions of sugar plums, but soon found herself in sparkles and glowsticks, working as a club dancer at the legendary superclub, Twilo. That's where Ayesha first took an interest in DJing, and it was only a few nights of glitter and neon before she saved up enough money to buy her first 1200's and teach herself the art of beat-mixing.
Not long after, Ayesha began classes at Barnard College, with an interest in studying computer music at Columbia University's Computer Music Center, the oldest center for electronic music in the United States, founded in the 1950s. She lied about being able to read sheet music, and soon found herself as a freshman in her first graduate level music class on electronic music composition, taught by Thanassis Rikakis and his then-TA, Luke DuBois. The first program she learned? Max/MSP: probably the last program in the world any DJ wants to fuss with. Such was Ayesha's crash course in electronic music and sound synthesis. But that was only the beginning…
While in Taiwan on a summer scholarship program to study Chinese, Ayesha unexpectedly found herself joining pop singing group Beauty4 and signing with EMI Records. Beauty4 released their first album to much success, particularly considering that they were the first international, racially mixed group to release a Mandarin Chinese album in Taiwan, singing and interviewing entirely in Chinese. The group toured Taiwan and other areas in Asia, and Beauty4 found themselves all over TV, radio, and the side of public busses.
Of course, Ayesha still had a passion for DJing, and it was her special blend of techno, trance and deep house that ultimately landed her the opportunity to record her first double mix CD set for the Muzik Boutique series on Highnote Records (映象唱片).  She continued to play clubs all over Taiwan, including a residency at 2F–one of the largest clubs in Taipei—as well as nights at the legendary Texound and the ever-popular Luxy.
Upon returning to the US to finish school, Ayesha continued to play DJ gigs in North and Central America.  She worked to finish her degree in Music at Columbia University, where she continued to hone her skills in both electronic music production and classical music theory and composition.  By now, she no longer had to lie about being able to read sheet music…or being able to write it either, for that matter.  She graduated summa cum laude and was awarded the Ethel Stone LeFrak Prize in Music, as well as several awards in poetry—all of which was in keeping with her path as a burgeoning songwriter.
Being a chronic over-achiever, Ayesha figured that this would be a great time to up the ante on her acting abilities, having been a SAG member since forever.  She first took on the rigorous two-year Meisner program at William Esper Studios where she studied with Nancy Mayans, Deb Jackel, and Karen Chamberlain. She then continued her studies with celebrated acting coach and Artistic Director of The American Place Theater, Wynn Handman, who has trained many excellent actors including Michael Douglas, Christopher Walken, Allison Janney, Denzel Washington and Richard Gere.
During her years of acting training, Ayesha still managed to flex her singer/songwriter muscles and collaborate on rock music project, Loss of Eden, recorded with producer Danny Leake (Kanye West, Janet Jackson, Sting, Hank Williams Jr, Stevie Wonder) and vocal producer Fran Allen Leake. Unlike her previous pop and dance incarnations, this project emphasized an earthy, naturalistic, under-produced approach. With lush layers of un-auto-tuned vocals and harmonies, as well as songwriting partner David Deau's stunning layers of guitars, the Loss of Eden project is Ayesha's most honest and raw work to date.
Coming full circle, Ayesha now returns to her dance music roots, and has been working on several hot new tracks as one half of dance music duo, Alchemical Disco.  Alchemical Disco's debut track, "Atomic," reached #20 on the Music Week UK Commercial Pop Club charts in 2014.  Ayesha's 2015 solo release, "Midnight Elite," reached #16 on the Beatport Electronica charts, #29 in Deep House and #77 in Techno.  Both Alchemical Disco's releases and Ayesha's solo project have received international radio play.  And of course, Ayesha has continued to deliver some fierce DJ sets in 2015 at a variety of clubs, including Pacha and Verboten.
Also in 2015, Ayesha made her return to stage and screen.  Earlier in the year, she took the title role in Rose Donohue, a 1950's who-done-it that is currently in post-production and sure to make the rounds at film festivals.  She will also be starring in a production of Craig Wright's play The Pavilion in November, with Michael Kostroff (of The Wire, The Blacklist, etc) directing.
Juggling her roles as actor, producer, vocalist, and DJ, it seems that Ayesha has finally found the perfect fit for her talent that has always been, and hopefully always will be, delightfully far outside the box.